A Szellemi Tulajdon Nemzeti Hivatala kiemelt fontossággal kezeli, hogy felhívja a fiatalok figyelmét a szellemitulajdon-védelmi kérdések jelenlétére a napi életben, és a szellemitulajdon-védelem szerepére a gazdasági folyamatokban. Ennek a munkának a részeként a hivatal évtizedes múltra visszatekintő pályázatot ír ki minden évben végzős felsőoktatási hallgatók részére.
Az Ujvári János diplomadíj-pályázat a választott diplomadolgozati témájukhoz kapcsolódva mutatja be a végzős hallgatóknak a szellemitulajdon-védelem szerepét és jelentőségét a mindennapi életben, és olyan tudáshoz juttatja a hallgatókat, amit a későbbiekben munkavállalóként, kutatóként vagy mérnökként is hasznosítani tudnak a saját vagy cégük által fejlesztett megoldások piaci oltalmának és menedzselésének során.
A pályázat tartalma
A pályázaton a végzős hallgató az általa készített diplomamunkával/szakdolgozattal tud nevezni, amelyben a választott téma szellemitulajdon-védelmi vonatkozásait tárja fel legalább 10 oldal terjedelemben, illetve olyan diplomamunkával/szakdolgozattal, ami teljesen a szellemitulajdon-védelem valamely kiválasztott kérdésének van szentelve. A pályázatok értékelésnél a két fajta megközelítési mód egyforma elbírálás alá esik, a dolgozatok rangsorolásánál egyik megoldás választása sem jelent hátrányt.
A pályázat megírását az SZTNH szellemitulajdon-védelmi képzéssel és egyéni szakmai konzulens biztosításával támogatja, aki végigkíséri a hallgatót a dolgozat elkészítésén.
A pályázat versenyeztetésen alapul, a hallgatók négy kategóriában nyújthatnak be munkákat:
szabadalom/használatiminta-oltalom,
formatervezésiminta-oltalom,
szerzői jog,
szellemitulajdon-védelem gazdasági szerepe.
A pályázati díj összege
A pályázatokat az SZTNH által kijelölt bizottság értékeli. Az öt meghirdetett kategória mindegyikében az első három helyezett kerül díjazásra az alábbiak szerint:
| | |
| --- | --- |
| Első díj | 250 000 Ft, |
| Második díj | 200 000 Ft, |
| Harmadik díj | 150 000 Ft. |
A pénzjutalomban nem részesülő hallgatók értékes ajándékot vehetnek át.
A pályázatot évente kétszer, az őszi és a tavaszi félévben végzős hallgatók részére írja ki az SZTNH. A díjátadó a két félév pályázóinak összevontan évente egyszer történik.
Pályázati kiírás
Felhívás a 2023/24. tanév őszi félévében végzős hallgatók részére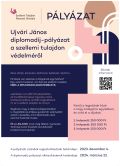 /A képre kattintva letölthető a plakát/
Korábbi díjazottak
A 2022/2023. tanévben díjazott hallgatók
A 2021/2022. tanévben díjazott hallgatók
A 2020/2021. tanévben díjazott hallgatók
A 2019/2020. tanévben díjazott hallgatók
A 2018/2019. tanévben díjazott hallgatók
A 2017/2018. tanévben díjazott hallgatók
A 2016/2017. tanévben díjazott hallgatók
A 2015/2016. tanévben díjazott hallgatók
A 2014/2015. tanévben díjazott hallgatók
A 2013/2014. tanévben díjazott hallgatók
A 2012/2013. tanévben díjazott hallgatók