az optikai holográfia feltalálója, Nobel-díjas fizikus
(1900 - 1979)
Gábor Dénes (Dennis Gábor) 1900. június 5-én született Budapesten. Már nagyon fiatalon beleszeretett a fizikába. Figyelme rögtön az atomok világa, az elektronok viselkedése felé fordult. Középiskolai tanulmányait a budapesti Magyar Királyi Állami Főreáliskolában végezte. Még gimnazista korában, tízévesen jelentette be első szabadalmát, az Aeroplán körhintát. (Az SZTNH adatbázisa szerint a bejelentés pontos dátuma: 1910. október 8.). 1918. március 6-án érettségizett, egy héttel később behívták katonának. A háborúból az észak-itáliai fegyverszünet után tért haza.
Érdeklődésének megfelelően a budapesti Műegyetemen gépészmérnöki, majd Berlinben villamosmérnöki tanulmányokat folytatott. Alapos matematikai ismereteit olyan neves szakemberektől kapta, mint Fejér Lipót, Kürschák József és Rados Gusztáv. Kortársai, barátai, vitapartnerei közé tartozott a későbbi nagy magyar tudós-triász: Neumann János, Szilárd Leó és Wigner Jenő. Berlinben, amely a 20. század első évtizedeiben a fizika fellegvárának számított, Einstein előadásait hallgathatták. Később a berlini magyar baráti kör kibővült Polányi Mihállyal és Koestler Artúrral.
Gábor Dénes első munkahelye Németországban egy magasfeszültségű távvezetékek tervezésével foglalkozó kutatóintézet volt. Pályája kezdetén a nagyteljesítményű, nagyfeszültségű villamos távvezetékekben létrejövő tranziens jelenségekkel, majd az ún. vándorhullámok megfigyelésére szolgáló katódsugár oszcillográfokkal foglalkozott. Ezen az úton jutott el a katódsugár-oszcillográf működésének alapjául szolgáló elektronoptika tanulmányozásához. Részt vett az elektronmikroszkópok és a televíziós képcsövek fejlesztésében. 1927-ben, mint a Siemens-Halske cég alkalmazottja, doktori értekezését a katódcsőről írta.
Németországban kezdett el foglalkozni a plazmajelenségek elméletével 1932-ben. A náci hatalomátvétel után elhagyta Németországot és hazatért Magyarországra, ahol 1934-ig az Egyesült Izzó kutatólaboratóriumában a gázkisülés fizikájával foglalkozott. Itt - Budincsevits Andorral együtt - fejlesztette ki a plazmalámpát. A sikeres laboratóriumi kísérletek ellenére a találmány magyarországi gyártására nem került sor, mert az Egyesült Izzó nem kívánta megvásárolni Gábor Dénes szabadalmát.
1934-ben kivándorolt Angliába. A Thomson-Houston Társaság kísérleti laboratóriumában fő munkaterülete továbbra is az elektronoptika volt. Később itt kezdett el foglalkozni a híradástechnikai információelmélettel. Az elektronoptikai leképezés vizsgálata vezette el a holográfia feltalálásához, amiért 1971-ben fizikai Nobel-díjat kapott.
Gábor Dénes nemcsak kiváló tudós, hanem jelentős gondolkodó is volt. A hatvanas évektől kezdve figyelme egyre inkább az emberiség jövője felé fordult. Ezt jelzik ebben az időben írott művei: A jövő feltalálása (1963), Tudományos, műszaki és társadalmi újítások (1970), Az érett társadalom (1972), de ezért vállalt szerepet a Római Klub tevékenységében is. Átfogó felmérésük tapasztalatait - Umberto Colombo professzorral közösen - A hulladékkorszak után címmel tették közzé (a Római Klub 4. számú jelentése).
 - Most már hosszú évek óta kettős életet élek: fizikus vagyok és feltaláló. Ez az egyik életem, a másik pedig: szociális író vagyok. Régen rájöttem arra, hogy nagyon nagy veszedelemben van a mi kultúránk - mondta 1972-ben, egy vele készült budapesti tévéinterjúban.
Először 1962-ben tért vissza Magyarországra. 1964-ben a Magyar Tudományos Akadémia tiszteletbeli tagjává választotta. Az Akadémia meghívására később is gyakran járt itthon, és mindig szívesen látta a fiatal magyar tudósokat az Imperial College-ban lévő tanszékén.
Gábor Dénes 1979. február 9-én Londonban hunyt el.
Érdekes, hogy ő is a 20. század első évben, 1900-ban született, akárcsak tudóstársa, Telkes Mária. Mindketten külhonban futottak be fényes karriert, és 2012-ben együtt részesültek magas elismerésben: beválasztották őket a Feltalálók Nemzeti Dicsőségcsarnokába (National Inventors Hall of Fame). Erről honlapunkon is hírt adtunk.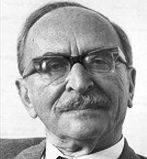 Gábor Dénes arcképe