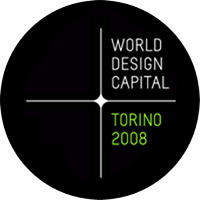 As the World Design Capital of 2008 the Italian city of Turin offers a rich selection of programmes throughout the year for design fans. A two-day design conference entitled Shaping the Global Design Agenda, will be held in November, complemented by a prestigious series of events in a number of galleries in Turin. The International Design Casa project is a great opportunity for the participating countries to showcase their design culture as well as to compare their local characteristics.
On request of the organisers in Turin, a joint appearance of six Central and Eastern European countries will be coordinated by Judit Várhelyi representing the Hungarian Design Council. In the Artintown Gallery a monumental graphic installation created especially for this event will include five fundamentally important and by now iconic design objects from each country. The installation was designed by Levente Szabó.
The Design Casa event is organised by HDC in partnership with the Estonian Association of Designers, the Latvian Design Information Centre, the Lithuanian Design Forum, The Association of Industrial Designers in Poland, The Silesian Castle of Art and Enterprise and the Slovak Design Center. The Design Casa will be open between 6th and 13th November
Further information at www.torinoworlddesigncapital.com.