Design Week 2008 - Dialogue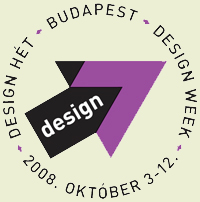 For the fifth consecutive year Design Terminal Kht. organises the annual Design Week in Budapest between October 3rd and 12th with the patronage of the Hungarian Design Council. In 2008 the central theme, idea is Dialogue referring to the interaction between user and object, the co-operation between client/manufacturer and designer, the active relationship between designer and the society.
The exuberant program taking place at dozens of venues offer great opportunities for those interested in the field to learn about the most recent results, developments of Hungarian and international design. Altogether more than 50 different events, exhibitions, fashion shows, conferences and roundtables await visitors.
The fifth anniversary of Design Week is celebrated with an initiative aiming at strengthening design-oriented mentality - in the framework of a collaboration with design shops, close to 50 places around Budapest offer a 15% discount during Design Week.
For the first time in the history of the Budapest design weeks, this year we welcome a star designer guest in the Hungarian capital. One of the most original figures in the contemporary design scene, the Dutch Marcel Wanders gives a lecture at the Moholy-Nagy University of Art and Design Budapest (MOME). The participation of Mr Wanders indicates that the Hungarian series of events is strengthening its position amongst the European design weeks.
The Museum of Applied Arts is one of the key venues this year. The materials and the winners of the 2008 Hungarian Design Awards, as well as the Form on Tour exhibition showcasing highlights from the past five years of the Awards and Taste MOMEnts, MOME's European traveling exhibition are presented here. A grandiose contemporary Hungarian fashion show, called Contemporary Runway is also organised in the Museum.
Fashion anyway plays a significant role in this year's program - environment-friendly clothing is showcased in Merlin at the Recycle fashion show, in the framework of the Italian Fashion on Tour each evening the fashion show of a different luxury brand is on the runway, while pieces from the most recent collection of Je Suis Belle are presented in an unconventional form.
This year's design tour offer an insight into the interior design secrets of some top-class Budapest hotels with the guidance of acclaimed Hungarian interior designers.
Design Week has initiated an unusual competition called MyCam for the documentation of the events of the ten days and invites the profession and design fans for the creation of original video spots.
For further information and detailed program visit: www.design7.hu