DESIGN IN MOTION!
DESIGN WEEK
Budapest, September 25th–October 2nd 2006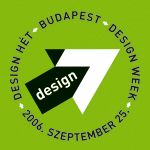 This is the third year that the Design Terminal Kht. organises the autumn Design Week, offering 52 events in 19 venues in Budapest from Monday to Monday.
Design Week started out three years ago under the auspices of the Budapest Autumn Festival, but is now an independent series of events.
This intense design campaign, sponsored by the Hungarian Design Council, focuses on the dynamism of design and explores its connection with motion and mobility. New features of the programme this year are the Design Film Days and the night-time Design Tours by tram.
The Film Days, which constitute the central core of the programme, present the prominent works and personalities of Hungarian and international design in a different field each day. Areas range from fashion through interior design, vehicle design, animation, national design and design workshops all the way to experimental design, offering visitors 21 valuable chances to become acquainted with the world of design.
On three nights the screenings include Hungarian retro movies, offering an album of smiles on the vehicles, object culture and clothes fashion of the 1960's and 1970's.
The subject of motion is in the centre of the Romanian, French and Polish design exhibitions, as well as the galleries displaying the works of Hungarian designers, with their moving objects, mobile furniture, displays and vehicles: anything that moves.
This year's subject matter makes the popular Design Tours even more relevant than before. This time the tour is offered aboard Budapest's fifty year old tram, the famous UV, which is shortly to be withdrawn. This design road-show encapsulates the past, present and future of vehicle design and transport on these trams which cross the inner city along a special route in a flood of light running.
The final event of the Design Week is the presentation of the 2006 Hungarian Design Awards in the Museum of Applied Arts. This is the most prestigious event of the profession in Hungary, marking the beginnings, the continuity and the permanent insistence on high standards in Hungarian design. The presentation is also the opening of the exhibition of the best works produced this year.
Clearly, the motto of this year's festival is rooted in the previous success of the even and the ever growing popularity of design, but it is also inspired by the prospect of a new Design Centre shortly to be opened in Hungary, proving that design is coming to a new life and will soon be in full motion in this country, too.