2008. június 29-én rendezik meg a design világnapját. Ez az első olyan, világméretű megmozdulás, amely az ipari formatervezésre és annak az életminőségre gyakorolt hatására szeretné felhívni a figyelmet.
Ezen a napon együtt ünnepelnek a designerek és designrajongók a világ számos pontján. Magyarország a Magyar Formatervezési Tanács kezdeményezésére a június 29-én megrendezésre kerülő WAMP-on ünnepli a világnapot.
A design világnapját az Ipari Formatervezési Társaságok Nemzetközi Szövetsége, az ICSID tavaly, alapításának 50. évfordulója alkalmából hirdette meg. Az 1957-ben alapított ICSID (International Council of Societys of Industrial Design) egy nonprofit nemzetközi szervezet, amely ötven ország közel százötvenezer designerét képviseli.
A Magyar Formatervezési Tanács az ICSID magyarországi tagszervezete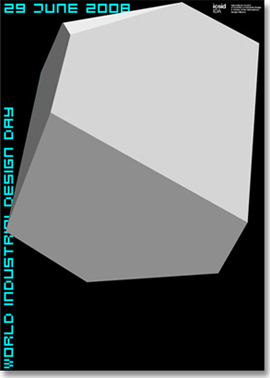 A 2008-as világnap poszterét
a neves német grafikus,
Uwe Loesch tervezte.
www.icsid.org