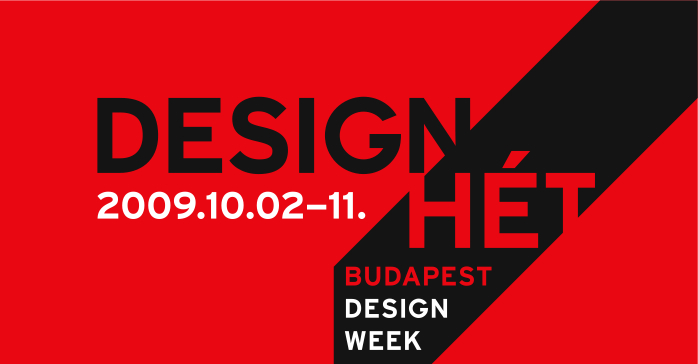 For the sixth consecutive year Design Terminal Nonprofit Ltd. organises Budapest Design Week with the patronage of the Hungarian Patent Office between 2nd and 11th of October as an official event in the program of the European Year of Creativity and Innovation. This year's central theme is Creative Energies. The focus is on artists' creativity, knowledge-based products and services, new generation materials and 21st century technologies. Design today is undoubtedly a creative industry of outstanding importance, and is one of the most important artistic-scientific-technological areas of our future.
Budapest Design Week will again be present all around the capital, from big museums to small workshops, from public spaces to the cult venues of different subcultures. The exhibition of the Hungarian Design Awards is being organised as in previous years; there will also be a special WAMP (Hungarian Design Market), a Pecha-Kucha Night anda wide range of fashion shows. Following last year's outstanding success, 60 shops, showrooms and workshops offer a 20% discount during Budapest Design Week. Design Terminal's exhibition titled Competing showcases a selection of products that held their ground on the global scene and were created with the participation of Hungarian designers.
Amongst the wide range of international design programs, Finnish design plays an important role, thus the star guest of this year's Budapest Design Week is Harri Koskinen, while the Finnish Re-interpreting Nature exhibition also arrives to Budapest - both organised by WAMP. The exhibition titled Swiss Design in Hollywood also presents the work of international artists, just like the Danish INDEX 2007 and the selection from the best applicants of CorianR's competition for Czech design and architecture students.
On weekends special workshops are organised at some of the key exhibition venues as part of the Design for kids program, so the youngest generation can also participate in Budapest Design Week.
New program elements are the Design Management Award founded by the Hungarian Design Council and Design Terminal's Open Studios initiative, in the framework of which the workshop, studio of 16 contemporary Hungarian designers can be visited.
During the past few years, Design Week has become a professional, internationally acclaimed festival, which is also indicated by several elements of its communication. The addition to the official name - using the word Budapest - distinguishes the event from other European design weeks. The new logo designed by Balázs Vargha (Stalker Studio) marks the transition.
Detailed program, further information: www.designweek.hu
Source: Design Terminal